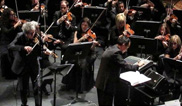 John Adams The Dharma at Big Sur for electric violin and orchestra
May 30th, 2017
The South American Premiere of "The Dharma at Big Sur" for electric 6 string violin and orchestra by John Adams has been performed in Teatro Solis in Montevideo, Uruguay, by Francesco D'Orazio and the Orquesta Filarmonica de Montevideo conducted by Damian Iorio. http://orquestafilarmonica.montevideo.gub.uy/evento/segundo-concierto-temporada-principal
---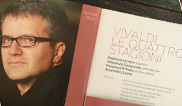 Vivaldi Four Season in Rome!
March 30th, 2017
Francesco D'Orazio and Ensemble l'Astrée has performed Vivaldi Four Seasons in Roma, in the wonderful Teatro Argentina. The concert has been organized by the Accademia Filarmonica Romana.
http://www.filarmonicaromana.org/index.php/calendario-concerti/item/302-filarmonica-allargentina
---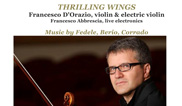 New York!!
March 21st, 2017
Four American premieres at the Columbia University in New York in the solo violin recital by Francesco D'Orazio! Thrilling Wings by Ivan Fedele for solo violin and three works for Electric 5 string violin and electronics by Pasquale Corrado and Ivan Fedele. Live electronics by Francesco Abbrescia. http://italianacademy.columbia.edu/event/thrilling-wings-fedele-berio-corrado
---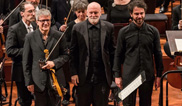 Brett Dean premiere for electric violin and orchestra!!
February 17th, 2017
The new electric 5 string violin and orchestra concerto has been premiered by Francesco D'Orazio and the Orchestra Sinfonica Nazionale della RAI conducted by Francesco Lanzillotta. The concert took place in Torino, Auditorium Toscanini and was broadcasted live by RAI Radio3.
http://www.orchestrasinfonica.rai.it/concerti/rai-nuovamusica-2017-concerto-n-3/35910/default.aspx
---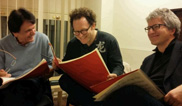 Fabio Vacchi new Violin Concerto!!
November 30th, 2016
The new violin concerto by Fabio Vacchi has been premiered by Francesco D'Orazio and the Orchestra della Fondazione Petruzzelli conducted by John Axelrod in the wonderful Teatro Petruzzelli in Bari. Concert will be broadcasted by RAI Radio 3.
http://www.fondazionepetruzzelli.it/sinfonica-2016/
---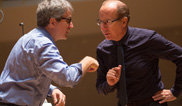 18th Slowind Festival in Lublijana
23rd-29th October 2016
Four concerts by Francesco D'Orazio at the 18th Slowind festival in Lublijana dedicated to Ivan Fedele. On the 23rd a solo recital for violin and electric violin and electronics (with Francesco Abbrescia live electronics). Works by Fedele, Berio, Boulez. On the 26th and 27th Francesco performed the Violin Concerto by Ivan Fedele with the Slovenian Philarmonic Orchestra conducted by Pierre-André Valade. On the 29th Mosaique for violin and ensemble by Ivan Fedele (written in 2009 for Francesco D'Orazio) with the ensembles Slowind and Ex Novo conducted by Pasquale Corrado.
http://slowind.org/en/concerts/
---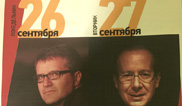 Masterclass and Concert at the Tchaikovsky Conservatorium in Moskow!!
26-27th September 2016
Masterclass by Francesco D'Orazio at the Tchaikovsky Conservatorium in Moskow on September 26th. On the 27th Francesco has performed Berio Sequenza VIII and Mosaique for violin and ensemble by Ivan Fedele at the Rachmaninov Hall of the Tchaikovsky Conservatorium with the Contemporary Music Ensemble of the Conservatorium.
http://www.mosconsv.ru/ru/concert.aspx?id=146544
---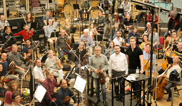 London Symphony Orchestra !!
September 17th, 2016
Premiere and recording of Vito Palumbo Violin Concerto. Francesco D'Orazio recorded the Concerto at the mithycal Abbey Road Studios with the great london Symphony Orchestra conducted by Lee Rychards.
---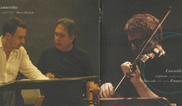 Violin Concerto by Maury Buchala released by Brasilian label SESC
May 2016
Violin Concerto by Maury Buchala, recorded in Paris in May 2015, has been released by the Brasilian label SESC. Francesco D'Orazio violin and Jean Deroyer conducts the Ensemble Court-circuite from Paris.
---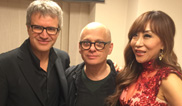 Premiere by David Lang!!
October 31st, 2015
Francesco D'Orazio and the singer Sumi Jo premiered the chamber version of Simple Song n.3 for soprano, violin and chamber ensemble by David Lang. The work was part of a concert dedicated to the American composer David Lang in which Francesco D'Orazio and his ensemble performed Just, Death Speaks, Wed, Sweet Air.
http://www.timezones.it/index.aspx?idpagina=dettagliartista&idartista=264
---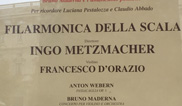 Filarmonica della Scala !!
October 4th, 2015, Teatro alla Scala, Milano
Francesco D'Orazio has performed Bruno Maderna Violin Concerto with the Filarmonica della Scala conducted by Ingo Metzmacher. The concert, dedicated to Claudio Abbado, opened the 24th Festival Milano Musica.
http://www.teatroallascala.org/it/stagione/2015-2016/concerti/ospitalita-istituzionali-musicali-italiane/filarmonica-della-scala.html

---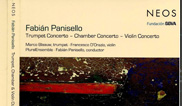 Fabian Panisello's Violin Concerto released by NEOS
June 2015
Fabian Panisello wrote his Violin Concerto for Francesco D'Orazio in 2003. The Concerto has been premiered by D'Orazio with the Orchestra Reina Sofia in the Auditorium Nacional de Madrid conducted by Hansjorg Schellenberger. One year later the work was Italian premiered in Accademia di Santa Cecilia in Rome. NEOS has released the CD recorded in Madrid few years later.
---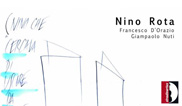 Released CD Nino Rota Complete violin/viola and piano works
30 Novembre 2012
Noto soprattutto per le indimenticabili colonne sonore che hanno accompagnato alcuni dei capolavori di Fellini e di Visconti e per il premio Oscar ricevuto nel 1974 grazie alle musiche de "Il Padrino – parte II" di Francis Ford Coppola, Nino Rota (1911 - 1979) è stato anche l'autore di una vasta produzione sinfonica e cameristica. Tra le sue musiche, segno di un percorso compositivo originale e personalissimo, si annoverano brani per orchestra, lavori vocali e numerose opere liriche. La presente pubblicazione, realizzata da Stradivarius con il sostegno di Pugliasounds, offre la prima registrazione integrale dei pezzi cameristici per violino, viola e pianoforte che riportano ad un Nino Rota fantasioso, dal linguaggio colorato e raffinato, creatore di un universo musicale che si infiltra indelebilmente nella memoria. A dare il titolo all'album, che raccoglie brani scritti in un arco di tempo più che trentennale, l'Improvviso in do maggiore "Un diavolo sentimentale" (1969), un avvincente dialogo tra violino e pianoforte. Il cd è arricchito dalle note del libretto scritto da Dinko Fabris e da preziosi documenti gentilmente messi a disposizione da Silvia Rota Blanchaert.
---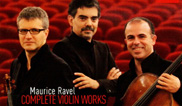 Pubblicazione nuovo CD pubblicato da Decca
28 Aprile 2011
Uscita del CD pubblicato da Decca con l'opera completa per violino di Maurice Ravel. Francesco D'Orazio, Giampaolo Nuti e Nicola Fiorino eseguono le tre Sonate, l'Habanera, l'A Berceuse, Tzigane.
---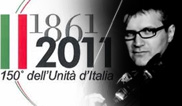 Concerto inaugurale delle celebrazioni negli USA per i 150 anni dell'Unità d'Italia.
17 Marzo 2011, Washington.
Nella sede dell'Ambasciata d'Italia, alla presenza delle massime cariche istituzionali americane e delle diplomazie internazionali, concerto inaugurale delle celebrazioni negli USA per i 150 dell'Unità d'Italia. Francesco D'Orazio esegue l'Humoreske per violino e orchestra di Ottorino Respighi con l'Orchestra della Fondazione Petruzzelli di Bari, diretta da Lorin Maazel.
---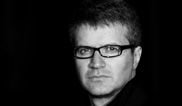 Vincitore del Premio ABBIATI della critica Italiana nella categoria solista.
Conferito a Francesco D'Orazio il XXIX Premio Abbiati della critica italiana nella categoria Solista.
Francesco D'Orazio è il primo violinista italiano ad ottenere questo prestigioso riconoscimento dopo Salvatore Accardo nel 1985.
Ecco la motivazione: "violinista brillante e versatile ha messo le sue qualità tecniche e musicali al servizio di un'eccezionale poliedricità, imponendosi come punto di riferimento nella musica contemporanea, nella collaborazione con compositori come Luciano Berio, Ivan Fedele e numerosi altri (con molte prime assolute), non meno che in repertori del tutto diversi, in particolare in quello barocco, come solista e violinista dell'Ensemble l'Astrée di Torino".
Nelle 29 edizioni del Premio Abbiati, nella categoria Solisti, il premio è stato attribuito solo a 14 musicisti, tra cui Maurizio Pollini, Arturo Benedetti Michelangeli, Grigory Sokolov, Leonidas Kavakos, Sviatoslav Richter, Radu Lupu, Krystian Zimmerman, Mario Brunello, Andrea Lucchesini, Andrea Dindo.
---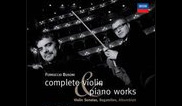 Pubblicazione nuovo CD pubblicato da Decca
28 Settembre 2010
Uscita del CD pubblicato da Decca con l'opera completa per violino e pianoforte di Ferruccio Busoni. Francesco D'Orazio e Giampaolo Nuti eseguono le tre Sonate, l'Albumblatt e le Bagatelle.